Brace Treatment in Neurological Scoliosis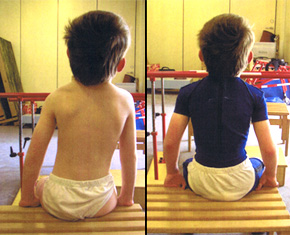 The scoliosis mentioned at the beginning of the section is generally idiopathic, i.e. not related to a particular reason. However, scoliosis can be seen in cases of hernia, accidents and trauma, certain genetic diseases and loose connective tissue. Although idiopathic scoliosis is observed in 90% of cases, 10% of scoliosis cases are known to arise from miscellaneous factors such as the ones listed above.
One of the most important causes is children's scoliosis related to cerebral palsy, muscular diseases such as myotonia and muscular distrophy.
This type of scoliosis has a wider angle, is generally unilateral and affects hip movement more. Especially in children with cerebral palsy, if not controlled early, this type of scoliosis will cause hip dislocation, deformity in the child's walking potential and the ribs will move closer to one another and result in pain.
The use of rough plastic braces for this type of scoliosis is very problematic. In the recent years, special braces made of dynamic elastic material have been produced for children suffering from these cases. These braces control the whole of the child's body and contribute to the child's activity by their corrective postural effect.
For child patients with neurological scoliosis, we use dynamic scoliosis braces. Collaborating with the British firm DMO, we apply special lycra brace dresses that have fortified straps around the scoliotic spine for these children.