What is Scoliosis?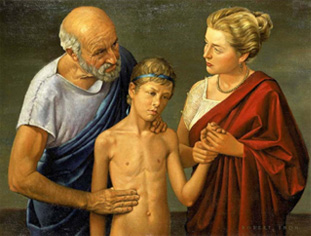 A curvature beyond a 10 degree angle in the spine, to the left or right, is diagnosed as scoliosis. However, scoliosis is not only a uni-dimensional angular deformation: it is a three dimensional, osseous and structural deformation that affects the body frontally and laterally.
As seen in the photos below, the curvature effects and deforms the spinal column, chest cage and ribs.
Scoliosis is observed at birth, early childhood, puberty and adulthood. Scoliosis is a 'silent disease', and can be overlooked easily. It is observed generally in puberty, more frequently in female children.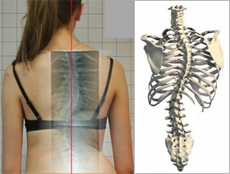 Medical research shows that 1 out of every 10 female children experience scoliosis. This is why children's spines should be checked regularly by families, family doctors and pediatricians.
In case the family suspects a case of scoliosis, a specialized orthopedics of physical treatment physician should be seen. The physician then analyzes the case through spinal graphs and developmental characteristics of scoliosis.