How to treat scoliosis?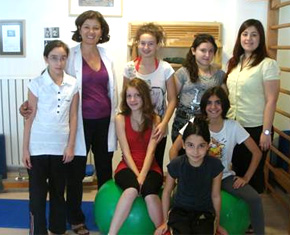 Scoliosis treatment can be categorized under four headings: observation, bracing, physiotherapy and rehabilitation applications and surgery. The type of treatment should be determined according to the deformation rapidity of the spinal curve. The deformation will be faster in cases that have been observed at younger ages, and ones that have high angles at time of the first diagnosis. The child's remaining growth potential, bone age and age of first menstruation for girls are very important indicatives.
Scoliosis treatment is determined according to the curve's angle and the patient's stage of growth. Today's accepted non-surgical methods are scoliosis-specific exercises, special programs and brace applications. The main aims of treatment are to prevent further deformation, maintain the child's spinal activity, control cosmetic worsening and prevent surgery.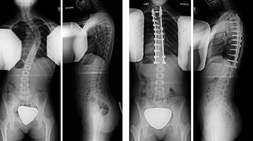 Successful results are obtained in children who have a scoliotic angle of 25-45 degrees, with correct bio-mechanically designed scoliosis braces. Success depends on the child's cooperation by wearing the brace for the determined period of time, as well as brace design and monitoring.
The implementation of physical exercise in scoliosis treatment has begun in Western Europe and spread in the recent years. Three-dimensional scoliosis exercises known as Schroth exercises are custom planned according to the patient's case of scoliosis. The aim is to control the pelvis as well as the affected spinal muscles and ligaments and to control the body's appearance. At the basis of this treatment is the control over the daily activities of the spinal column through mobilization, spinal traction, flexibility and correct posture control. Regular exercise, use of correct and bio-mechanically sufficient brace for the appropriate amount of time increase the postural balance of the child and control the scoliosis' angle progression.
Surgical intervention is needed in cases where brace treatment fails, in patients that have the above mentioned risks of scoliosis advancement and the Cobb angle is higher than 50 degrees. Scoliotic surgery includes moving the spinal column to the central line by help of plates and screws in order to control the advancement of the deformity. In young children, the operation can be repeated in order to elongate the spinal column.